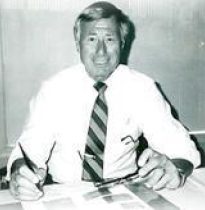 Paul J. Emilius, Sr.Founder
In 1961, after four years as serving as the Chief Surveyor for a large design and construction project in northern New Jersey, Paul Emilius, Sr. was offered a similar position in North Carolina for a large land reclamation and dam construction project. Giving the position and the move (particularly with regard to his family roots) great consideration, Paul decided instead to venture out on his own and start a new land surveying business. Emilius & Associates was born with headquarters then, as now, in Newfoundland, NJ.
"Probably one of the first big breaks for Emilius & Associates," recalled Paul, Sr., "was our involvement with a new sewer system being constructed by the Township of West Milford, NJ.​​​
Based upon the expertise provided and ultimate performance of the Emilius firm on that project, GEOD's mutually beneficial relationship with local, state and federal entities was launched. GEOD's solid reputation for accurate and cost-effective project completion enabled it to flourish in the security of a continually expanding and repeat client base in both the public and private sectors today.
Paul Sr. was an avid proponent of new technologies that would streamline his company's services and provide greater accuracy and better information to his clients. In the mid-1970's, Emilius & Associates added aerial photography and topographic mapping to its line of services. At the same time, the surveying profession had begun to feel the influence of new equipment advances with the introduction of measurement devices like the laser ranger, an instrument that used a laser beam to measure long distances with very little error.
With the addition of these services, Paul Sr. looked to change the name of his company to more accurately reflect the firm's identity and the more advanced direction of the firm – and GEOD Corporation was born.
In the late 1970's, GEOD implemented the use of aerial cameras to provide "close range photogrammetry," the thinking being that if you can take a picture of a town at 3,000 feet with great accuracy, why not use the same technology to develop on-ground information of buildings, tunnels, bridges, and walls?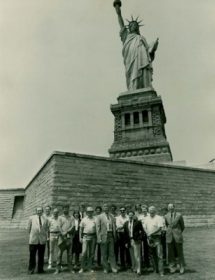 As a firm at the forefront of these technological advancements, GEOD Corporation was able to undertake projects in size and scope for which few others could compete. Some of the significant projects on which GEOD has worked over the years includes:
The Statute of Liberty
Tweed Court House
The Williamsburg Bridge
The Brooklyn Bridge
The Holland Tunnel
GEOD's reputation is sustained today by the people affiliated with it and the education and advanced technology they are willing to embrace. Decades ago, standard survey equipment included transits, levels and tape. Today, our equipment inventory includes robotic and reflectorless total stations, global positioning systems and 3D laser scanners.
All of GEOD's principals uphold our philosophy that our clients are an extended family and encourage communication during each phase of every project.
As of October 2021, GEOD Corporation became an affiliated company of MFS Consulting Engineers & Surveyor, DPC (MFS Engineers & Surveyors), a multidiscipline, MBE/DBE/SBE certified civil engineering firm. This acquisition expands MFS professional survey capabilities while at the same time allowing GEOD to provide its clients with a complete range of engineering including site/civil, geotechnical, structural, aerial mapping & photogrammetry, land surveying, and construction management services from a consolidated source.